Tofield motocross riders take home awards at annual banquet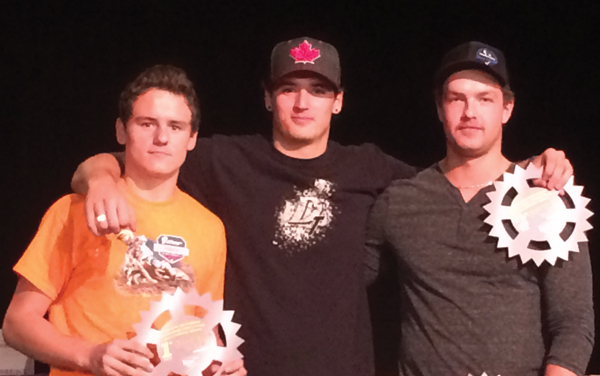 On Saturday, Nov. 22, the Alberta Old Timers' Motocross Club held its annual awards banquet and, just as in past years, Toefield was well represented by it's amateur club riders. This town is fast becoming the place to be if you want to succeed at motocross in Alberta.
In the under 30 amateur class, Justin Carson finished in 3rd place, Tyrell Gacek finished in second place, and Jaedon Gacek earned first place overall.
Justin Carson had a slow start to the season, but through determination and hard work closed up a huge points gap. Going into the last race of the year, Justin was still in 4th place and really had to push himself if he wanted to make it onto that podium. Despite the pressure, he outperformed the competition to get the third place trophy.
Tyrell Gacek was the top rider for most of the 2014 season. He led the class in holeshots and had the most overall wins, but sustained a knee injury that forced … for more see the Dec. 9/14 Mercury