Tofield Novice teams make tourney Finals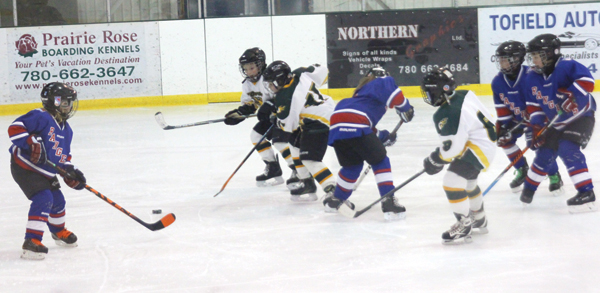 Tofield Novice 1 and 2 teams held their Tier 3 and Tier 5 tournament Jan. 13-15 at the Arena with lots of hockey action to enjoy.
Tier 3 included the Tofield Titans Novice 1, Fort Saskatchewan Rangers Novice 2B, Red Deer Thrive Hockey Novice B and Thorsby Novice 1.
Tier 5 included Tofield Titans Novice 2, Camrose Flyers Novice 4, Strathcona Warriors Novice 3 and Strathcona Warriors Novice 5.
After three days of hockey, the two Tofield teams both made the Finals in their categories by playing hard and keeping up the team spirit all the way through.
Tier 3 Final was between Tofield and… FOR MORE SEE THE JAN 17/17 MERCURY