Tofield takes Silver at Midget 'C' Provincials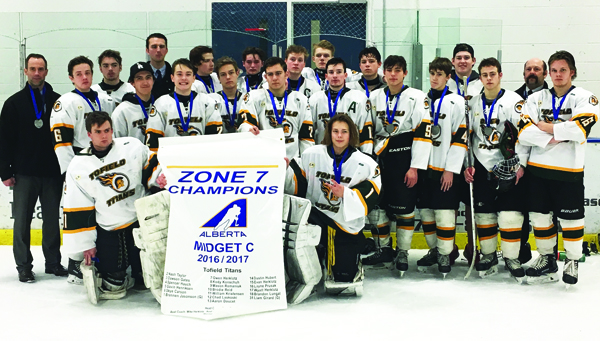 The Tofield Titan Midget Tier 1 team took Silver at the Midget 'C' Provincials held last weekend in Slave Lake after winning all three round robin games and the semi-final.
On Thursday, Tofield started the weekend by handily defeating White-court 5-1. The team kept winning with an 8-1 victory over Ft. McLeod, followed by a closer 6-5 win over hosts Slave Lake on Saturday.
This took them to the semi-finals Sunday morning where the team defeated Duchess 5-2.
After La Crete defeated Whitecourt in the other semi-final, Tofield and La Crete came together to battle it out in the Provincial Gold Banner Game Sunday afternoon…
For more see the March 28/17 Mercury