Bull Bash packs Arena for Saturday night bullfight
The 2017 Tofield Bull Bash at the Tofield Arena packed them in Saturday night in anticipation of a night full of action and spectacle.
Thirty bullriders, the best in all of Canada, were there to show their bravery in the face of great danger as they pitted their riding skills against the skills of the bulls to unseat them.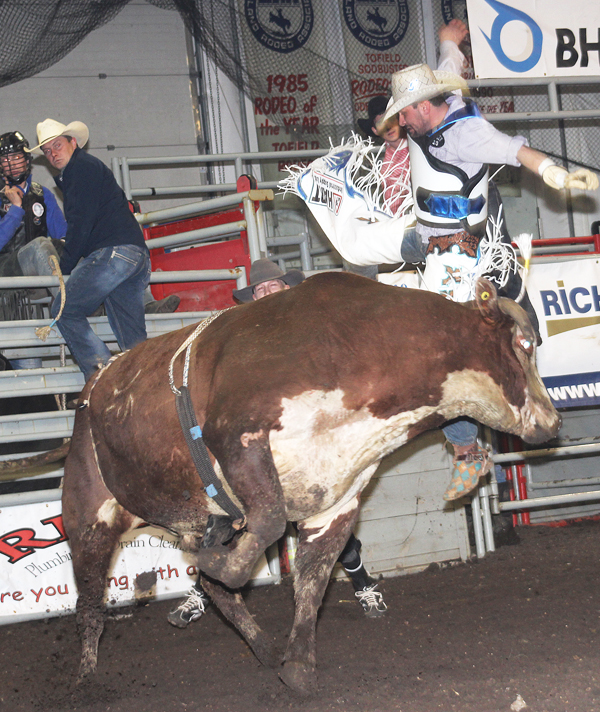 The event is sponsored by GHD Tubular and organized by the Tofield Agricultural Society in partership with the Town of Tofield. It is sanctioned by the Canadian Professional Rodeo Association.
Announcer Dustin Edwards gave the crowd a running commentary of the evening while announcing the riders and their results. Local singer Emily Sjursen sang the National Anthem.
The amazing bulls were provided by Girletz Rodeo, Thompson Rodeo, Wild Hoggs Bucking Bulls, Vold Rodeo and Skori Bucking Bulls
There were only four riders who scored during the long go competition, including Jared Parsonage of Maple Creek, SK with 81 points, Scott Schiffner of Strathmore with 84.5 points, Jordan Hansen of Calgary with 83.5 points and Jacob Gardner of Dawson Creek with an 80.5 on… for more see the April 19/17 Mercury