Solar energy session in Ryley generates interest
On Saturday, Feb. 17, Ryley residents and community members from the surrounding areas attended an information
session on the benefits of using solar energy.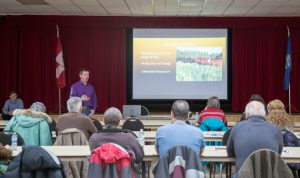 "I believe solar energy can be of benefit to all rural residents as well as municipalities including Ryley and Beaver County," Hanson said.
"For example, when a grid-connected solar photovoltaic (PV) system is mounted to a building it will generate electricity, which in turn will lower the electricity needed from the utility grid and the utility bill will be much smaller."
Speaking of the many benefits and cost-saving dimensions of solar energy, Hanson further explained that when there is a surplus of electricity generated by the solar system there will be a credit applied to the utility bill.
For rest of the story, please subscribe to The Tofield Mercury at: http://tofieldmerc.com/?page_id=34